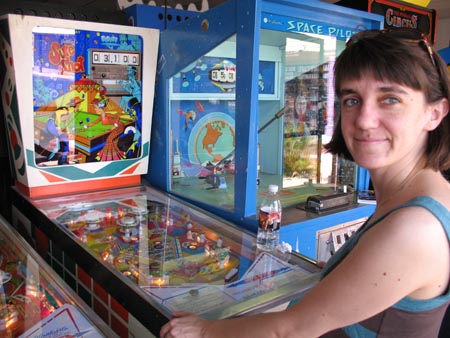 On this, the second day of their journey, John and Rene agree to take in the Pinball Hall of Fame. They arrive at this ordinary storefront, in this nondescript strip mall, along Tropicana boulevard. Upon opening the doors, they are entranced by Williams, Gottlieb and Bally machines of the 1960's variety. Brightly painted, Bowling Queen and Sure Shot pinball machines with mid-century stereotypes soon make way to more psychedelic designs, then to designs based on comic characters, then ultimately to movie themed machines from the eighties and early nineties. John muses that it's like seeing the full span of an industry, from cradle to grave.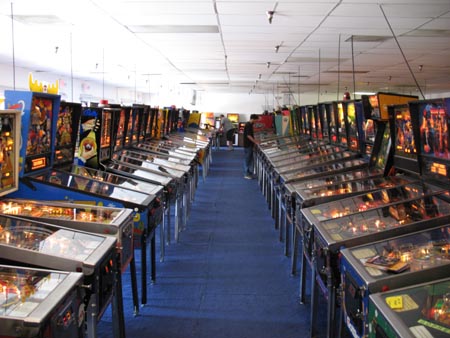 Rene singles out some novel early precursors to the pinball. The pair play one game where the nickel that you place into the machine actually acts as the pinball. They also play a head-to-head match where their catapulting a ball into numbered slots advances some horses around a track. In an exciting finish, John takes the cup by two lengths.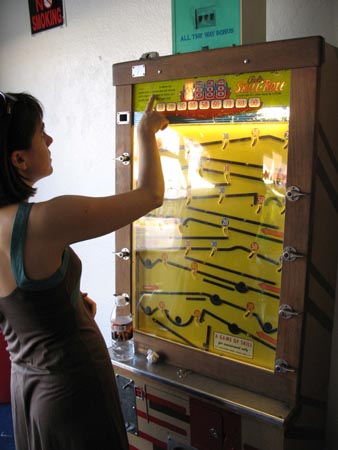 Several of the notable machines have index cards printed on them, with quirky, hand-written descriptions describing the artists and designers, the serial numbers and year of production. John recalls some great machines from his past… Captain Fantastic with Elton John is featured, right out of the 70's rock opera, Tommy.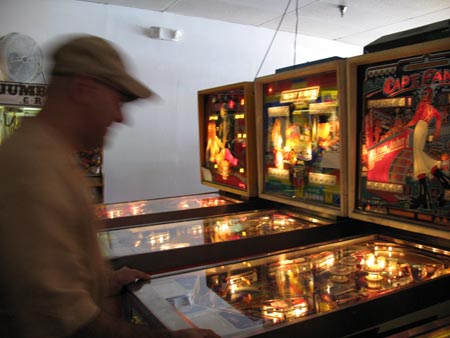 There's even a Kiss machine, featuring the masked metal band of John's youth. John is reminded of weeknights as a pizza chef at his second job, Pizza Pub, where Jeff Levitan would hold court. Jeff was a resident pinball expert, and John recalls several tricks of the trade that Jeff had passed on during the many hours he spent lording over the table back in Tucson on 22nd street in the early eighties.
Rene gravitated to her favorites too! Super Mario Brothers and The Simpson's held a particular place in her heart. But also there were some rare and unlikely surprises of the early video game variety. In addition to seeing the early Pong (or Paddle Ball, as this one knock-off was called), Paperboy was one particular video game which Rene had fond remembrances and a remarkable ability. She navigated a badly animated bicycle through the aerial perspective of a suburban neighborhood throwing newspapers onto lawns with skill – all the time avoiding oncoming cars and other obstacles. John is impressed by Rene's abilities and her unpretentious embrace of this most common of sports.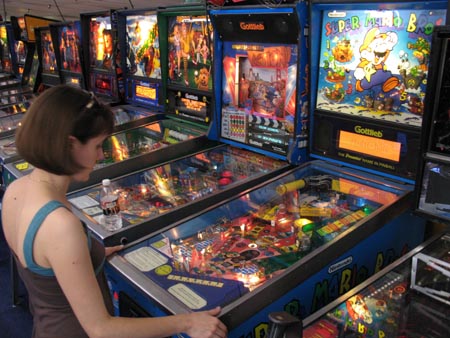 Rene rounds out the experience by deciding she likes the later, more complicated multi-ball pinball machines. She plunks in a few additional quarters into the Creature from the Blue Lagoon in 3D machine (part of the Universal Monsters series). At one point, the ball gets stuck, and they glance around to capture the attention of the proprietor, a grizzled, pony-tailed, ex-hippie, silently and patiently inspecting the insides of a vintage Gottlieb machine. It's clear that this guy has more patience for pinball machines than he does for people. But after a bit of pleading, John is able to enlist the manager's begrudging and dour assistance.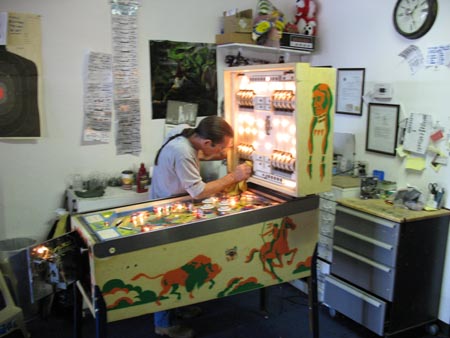 Rene takes in a few parting plays on The Simpson's machine and the couple make their way out onto the ordinary, Las Vegas sidewalk to board a public bus back to the hotel.